Fascia is an architectural term for a vertical frieze or band under a roof edge, or which forms the outer surface of a cornice, visible to an observer. The finished surface below the fascia and rafters is called the soffit or eave. These in tandem protect the roof rafters and allow ventilation to the roof space. See the diagram below for orientation:
The fascia & soffit along with the bargeboards and guttering outline every property and when left to get grubby it really takes the shine off the exterior of a property.
If left without cleaning, overtime, these fixings can become stained or rotten (depending on material). Which is why we recommend cleaning them at least once a year to keep them in a good condition and your property looking like new. Its unbelievable how much of a difference having these functional parts of the property cleaned makes to the overall aesthetic!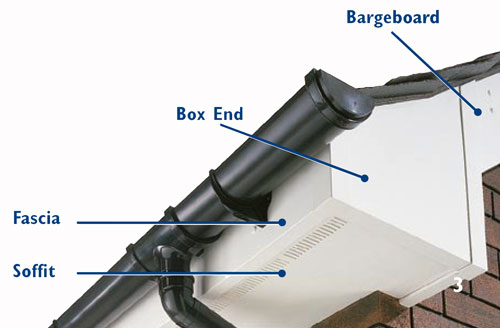 What does a Fascia & Soffit clean include?
A fascia & soffit quote will include all the cleaning of the following parts:
Fascia

Soffit

Box Ends

Bargeboards

Underside of the guttering
If you are interested in finding out how much we will charge to clean your fascia & soffits, or for any of our other services, you can request a quotation by phoning us on   01403 586069, emailing us at customer@atomicservices.co.uk or by completing the form within the Contact Us section.